Xbox One X - Patch And Improvements In Madden NFL 18
A rather busy weekend on the Xbox One X side as the patches to improve the games already released continue to be deployed. We start with Madden NFL 18 and its patch notes below, the title available including 4K in 60 fps and some visual improvements.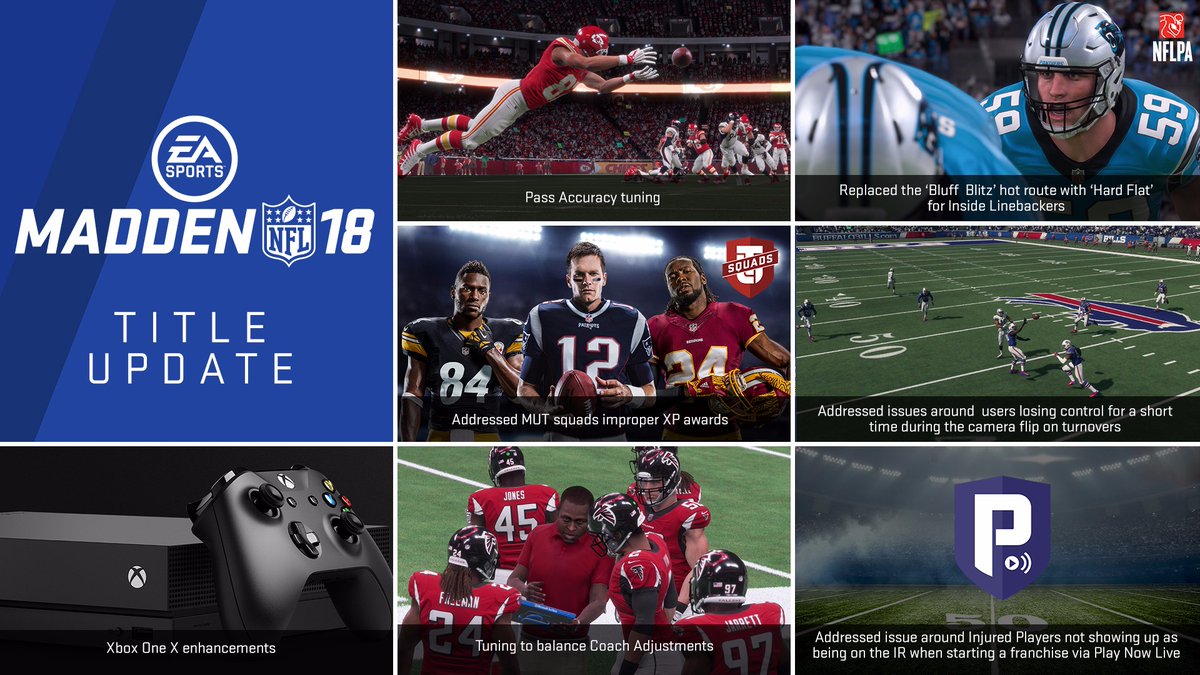 Madden NFL 18 Patch
Enhancements available for Madden 18 Xbox One X Include:
Upgraded Resolution from 1080p to 4K Ultra HD: Providing players with the highest fidelity visuals in Madden NFL experience ever, delivering hyper-realistic gameplay to your fingertips
Gameplay Runs at a Consistent 60 frames per second (fps): Delivers seamless transitions and improved gameplay performance between each down
Character Level of Detail : Vibrant, detailed athlete visuals bringing your favorite NFL stars to life!
All of this is part of a Title Update for Madden 18. Below are the other features included in this recent update.
Top Updates
Pass Accuracy tuning
Addressed MUT squads improper XP awards
Tuning to balance Coach Adjustments
Replaced the "Bluff Blitz" hot route with "Hard Flat" for Inside linebackers
Addressed issues around users losing control for a short time during the camera flip on turnovers
Full Change List
Franchise
Updated NFL records for Offline (already available in Cloud)
Addressed issue displaying certain menus in 4K
Addressed issue around Injured Players not showing up as being on the IR when starting a franchise via Play Now Live
Made stability improvements
Gameplay
Tuned to increase pass accuracy when throwing in a clean pocket with feet set in Competitive Game Style
Tuned to decrease pass accuracy when throwing across the QB's body at drastic angles and making back-foot throws
Tuned to decrease defensive penalty for using the Pass Commit adjustment vs. running plays in all Game Styles
Added logic for Conservative Ball Carrier Coaching Adjustment – now there's a very low chance for defender fakeouts when this adjustment is active
Tuned to increase frequency of holding penalties when the Aggressive Blocking Coaching Adjustment is active
Tuned to increase frequency of offsides penalties when the Aggressive Pass Rush Coaching Adjustment is active
Addressed issues resulting in catches being knocked out by minimal defensive contact
Addressed issues around users losing control for a short time during the camera flip on turnovers
Addressed online grieving exploits around spamming the Fake Snap mechanic to stop the clock and defenders intentionally Encroaching to keep the clock running
Addressed issue resulting in incorrect field position after a touchback occurs on a missed field goal
Addressed issue where kick return player would get stuck in a strafe assignment after colliding with a teammate
Tuned to ensure plays populate in the Run/Pass Counter filter of the Play Call menu
Added Skills Trainer Gauntlet stability improvements
Added a controller-rumble prompt in MUT Squads to notify user-controlled receivers when the ball is snapped
Tuned to address inability to move outside linebacker when showing blitz in the Dollar formation
MUT Squads
Addressed issues around incorrect XP awards
Visual
Addressed rare issue around Field Goal net enlarging after missing a field goal
Do you want to make cheap Madden 18 coins quicker for your game? If you do, you can visit Madden-Store to have more guides and methods about this.